A zoom lens that's appreciably better than many kit zooms of its era. Well worth looking out for as a used bargain, although lacking the IS that might be appreciated in newer zooms.
Available from: Amazon.com | Amazon.co.uk | B&H | Adorama
Lens specifications
| | |
| --- | --- |
| Focal Length & Maximum Aperture | 28-105mm 1:3.5-4.5 |
| Lens Construction | 15 elements in 12 groups |
| Diagonal Angle of View | 75° - 23° 20' |
| Focus Adjustment | Ring type USM, inner focusing system, full time manual focus |
| Closest Focusing Distance | 0.5m / 1.6 ft. 0.19 x magnification |
| Zoom System | Rotation Type |
| Filter Size | 58mm |
| Max. Diameter x Length, Weight | 2.8" x 3", 13.2 oz. / 72 x 75mm, 375g |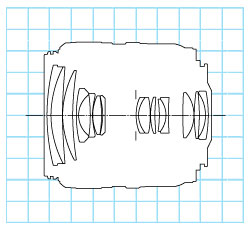 EF28-105mm f/3.5-4.5 II USM reviews and articles
Canon UK / US Information Page

Northlight Images

Canon CPN article

PhotoZone
Lens Review
ePhotozine
Written a review? Contact us and we'll add it to the list.
Sample images
None available
Product launch
LAKE SUCCESS, N.Y., August 24, 2000 -- Canon U.S.A., Inc., the company whose imaging solutions give people Know How, is introducing three new zoom lenses for its best-selling line-up of EOS cameras:
EF 28-90mm f/4.0-5.6 USM
, EF 28-105mm f/3.5-4.5 II USM, and
EF 28-200mm f/3.5-5.6 USM
.
The new zooms strengthen and expand what is already the world's largest selection of autofocus lenses, bringing the total number of current lenses to 56.
The new EF 28-90mm f/4.0-5.6 USM joins an impressive line-up of multi-function, wide-angle-to-telephoto standard zoom lenses for the EOS System. It will be available initially as the standard lens for entry-level and mid-range EOS cameras including the best-selling EOS Rebel 2000 series as well as the new EOS Elan 7 and 7E. Compared to the current EF 28-80mm f/3.5-5.6 V USM standard zoom, the new EF 28-90mm USM lens provides extended telephoto range useful for portraiture and a variety of other applications with virtually no increase in size, weight or cost. This technological achievement is due in great part to the incorporation of a newly-developed optical system featuring an aspherical lens element.
The EF 28-105mm f/3.5-4.5 II USM replaces the popular EF 28-105mm f/3.5-4.5 USM originally marketed in 1992. The new lens has the same optics and internal mechanical construction as its predecessor while sporting a new, more luxurious exterior finish and zoom ring design to match the appearance of current EF lenses.
The EF 28-200mm f/3.5-5.6 USM lens allows EOS users to travel light by transporting only one lens for most focal length needs. The extended zoom range of this lens makes it ideal for a variety of photographic subjects including landscapes, portraits and sports.
''Canon is committed to providing photographers with the tools they need to realize their photographic ability,'' said Yukiaki Hashimoto, vice president and general manager of Canon's Photographic Products Group. ''The introduction of these new lenses represents Canon's continued dedication to providing the highest quality optics based on the needs and requests of our customers.''
The EF 28-200mm f/3.5-5.6 USM is the first Canon lens in its focal length range and provides photographers with additional creative latitude in one lens. It uses the company's patented Super Inner Cam design to achieve the closest minimum focusing distance in its class (17.7 inches at all focal lengths), resulting in an unprecedented magnification factor of 0.28x for spectacular close-up photography at the 200mm setting. Due to the inner focusing design, the lens' filter thread remains stationary, allowing users to add attachments such as circular polarizing or graduated neutral density filters without being hindered by lens rotation. Two aspherical surfaces are incorporated for high image quality at all focal lengths, and a Micro USM makes the new EF 28-200mm lens the only zoom in its class to feature Ultrasonic Motor technology for high-speed and silent autofocusing.