Canon's f1.2 lens is a replacement for the short lived EF 50/1.0
Like many extremely wide aperture lenses it takes considerable care to get optimal results from the wafer thin depth of field at f/1.2.
Unless you are going to be making serious use of the 'look' from this lens, it's worth noting that at smaller apertures it's not any better than the appreciably cheaper 50/1.4.
The apparent depth of field that you will see in the viewfinder of a standard Canon DSLR is actually much more than images will capture, leading to some of the lens's reported poor AF performance. To get the best you need a different focus screen and lots of practice...
Available from: Amazon.com | Amazon.co.uk | B&H | Adorama
Lens specifications
| | |
| --- | --- |
| Angle of view (horzntl, vertl, diagnl) | 40º, 27º,46º |
| Lens construction (elements/groups) | 8/6 |
| No. of diaphragm blades | 8 |
| Minimum aperture | 16 |
| Closest focusing distance (m) | 0.45 |
| Maximum magnification (x) | 0.15 |
| Distance information | Yes |
| Image stabilizer | No |
| AF actuator | Ring USM |
| Filter diameter (mm) | 72 |
| Max. diameter x length (mm) | 85.8 x 65.5 |
| Weight (g) | 580 |
| Magnification - Extension Tube EF12 II | 0.39-0.24 |
| Magnification - Extension Tube EF25 II | 0.67-0.53 |
| Lens hood | ES-78 |
| Soft case | LP1214 |
| Extenders EF1.4x II and EF2x II | Not compatible |
MTF chart and internal construction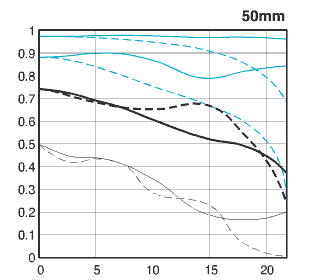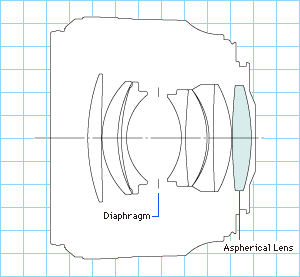 A quick guide to MTF charts (which only measure contrast and resolution. Canon's guide to their MTF charts)
Black lines reflect lens performance at widest aperture.
Blue lines show the performance at f/8

Thick lines indicate lens contrast
Thin lines indicate lens resolution

Dashed lines: Lens performance with meridional lines.
Solid lines: Lens performance with sagittal lines

Closer sagittal and meridional chart lines indicate more 'natural' out of focus areas.
Remember that MTF charts are good for comparing similar lenses, so comparing ones from the 14mm f2.8L and 300mm 2.8L won't tell you much at all, whilst comparing the EF14 2.8L with the EF14 2.8L II will show meaningful differences. Note that other manufacturers may have different ways of displaying such information that may or may not match up with the Canon figures.
Canon EF 50mm f/1.2L USM reviews and articles
Written a review? Contact us and we'll add it to the list.
Product launch
US Press info (the 50mm and 70-200 were announced at the same time)
LAKE SUCCESS, N.Y.--(BUSINESS WIRE)--Aug. 24, 2006--Canon continues its tradition of optical excellence with two new EF lenses - the powerful EF50mm f/1.2L USM and the versatile EF70-200mm f/4L IS USM lenses. Both lenses are valuable additions to the EOS arsenal for professional wedding and portrait photographers as well as advanced amateurs - expanding the range of current Canon EF lenses to more than 60 selections.
"The EF50mm f/1.2L USM lens is now the fastest autofocus lens in its class*, which makes it an essential tool for many professional and advanced amateur photographers," said Yukiaki Hashimoto, senior vice president and general manager of the consumer imaging group at Canon U.S.A., Inc. "The EF70-200mm f/4L IS USM lens delivers the legendary sharpness and clarity of the Canon 'L' series lenses in a compact and lightweight design that is easy to use for hand held photography, making it a versatile lens for any photographer."
"Wedding moments unfold at the speed of life and my mission is to artfully document in real time as a lasting history of the newlyweds," said Canon Explorer of Light photographer Denis Reggie, who is known worldwide for captivating wedding and portrait photography. "Many favorite images are made under the challenges of very low light levels, but using superb, fast lenses, the reward is an unmistakable, documentary look. I love the shallow depth of Canon's remarkable 'L' series lenses to bring sharp focus and full attention to the bride's eyes... that gives me and my clients compelling images that stand out from the crowd. For my celebrity and society wedding assignments, these new Canon lenses will be prized additions to my gear bag."
The EF 50mm f/1.2L USM Lens - Serious Glass for Serious Photographers
Canon is the only camera manufacturer to provide professionals and advanced amateurs with Digital SLRs that feature full frame sensors, such as the Canon EOS-1Ds Mark II and EOS 5D digital SLRs. The new EF50mm f/1.2L USM lens complements full-frame cameras, while delivering beautiful results on APS-C/H sized sensor models as well.
The EF50mm f/1.2L USM lens is a strong testament to Canon's heritage of optical excellence. Every aspect of this lens exudes professional quality from its wide 72mm filter diameter to its dust and moisture sealed construction. A high refraction glass molded aspherical lens element helps to minimize spherical aberration, which is crucial in order to provide fine detail and maximum image quality from corner to corner, even when the lens is used wide open. Full frame digital camera users will especially appreciate the benefits of the 50mm focal length, when shooting waist-up portraits while maintaining appropriate subject distance at a wedding.
The large maximum aperture of f/1.2 allows this lens to produce shallow depth of field that softens the background and makes subjects "pop" out of a portrait. Photographers can also take advantage of higher shutter speeds to shoot in lower light and help prevent blurring caused by subject movement or camera shake. In addition to a large aperture, the new lens also has blazingly fast autofocus speed and response time, thanks in part to Canon's ring-type Ultrasonic Motor (USM), which quietly drives the lens. A full-time manual focus feature allows photographers to fine-tune the sharpness of their images, even when the lens is set for autofocus.
Canon designed the EF50mm f/1.2L USM to deliver the best possible optical quality while being tough enough to meet the needs of demanding photographers. Eight lens elements in six groups provide high resolution, while advanced coating suppresses flare and ghosting. A glass molded (GMO) aspherical element ensures maximum image quality by reducing spherical aberration and linear distortion. Dust and moisture resistant components in the lens mount, switches, and focus ring help to protect the lens in a wide variety of shooting conditions.
The powerful and fast EF50mm f/1.2L USM lens will be available in November for an estimated selling price of $1,599**.
About Canon U.S.A., Inc.
Canon U.S.A., Inc. delivers consumer, business-to-business, and industrial imaging solutions. The company is listed as one of Fortune's Most Admired Companies in America and is rated #35 on the BusinessWeek list of "Top 100 Brands." Its parent company Canon Inc. (NYSE:CAJ) is a top patent holder of technology, ranking second overall in the U.S. in 2005, with global revenues of $31.8 billion. For more information, visit www.usa.Canon.com.
Specifications and availability subject to change without notice.
All referenced product names, and other marks, are trademarks of their respective owners
*As of August 24, 2006
**Pricing subject to change at any time. Actual prices are determined by individual dealers and may vary.