Focal Length & Maximum Aperture
70-300mm f/4-5.6
Lens Construction
17 elements in 12 groups
Diagonal Angle of View
34° - 8° 15" (with full-frame camera)
Focus Adjustment
rear focusing method
Zoom
Rotary (extending)
Closest Focusing Distance
1.20 m (47")
Filter Size
67mm
Max. Diameter x Length, Weight
80 mm (3.1")
146 mm (5.75")
710 g (1.57 lb)
Construction (one UD element)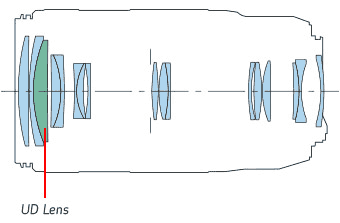 MTF charts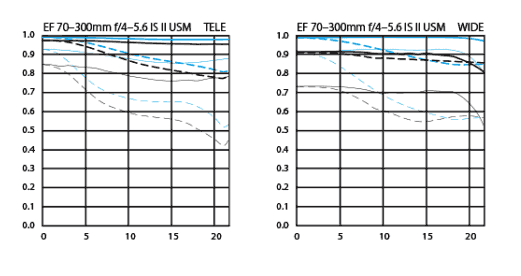 Compare with the Mk1 version of the 70-300
A quick guide to MTF charts (which only measure contrast and resolution. Canon's guide to their MTF charts)
Black lines reflect lens performance at widest aperture.
Blue lines show the performance at f/8

Thick lines indicate lens contrast
Thin lines indicate lens resolution

Dashed lines: Lens performance with meridional lines.
Solid lines: Lens performance with sagittal lines

Closer sagittal and meridional chart lines indicate more 'natural' out of focus areas.
Remember that MTF charts are good for comparing similar lenses, so comparing ones from the 14mm f2.8L and 300mm 2.8L won't tell you much at all, whilst comparing the EF14 2.8L with the EF14 2.8L II will show meaningful differences. Note that other manufacturers may have different ways of displaying such information that may or may not match up with the Canon figures.
EF70-300mm f/4.5-5.6 IS II USM reviews and articles
Canon UK / US Information Page

Northlight Images

Canon CPN article

Fred Miranda
Lens Tip
Digital Picture
PhotoZone
SLR Gear
Lens Review
ePhotozine
Written a review? Contact us and we'll add it to the list.
Sample images
None available at present.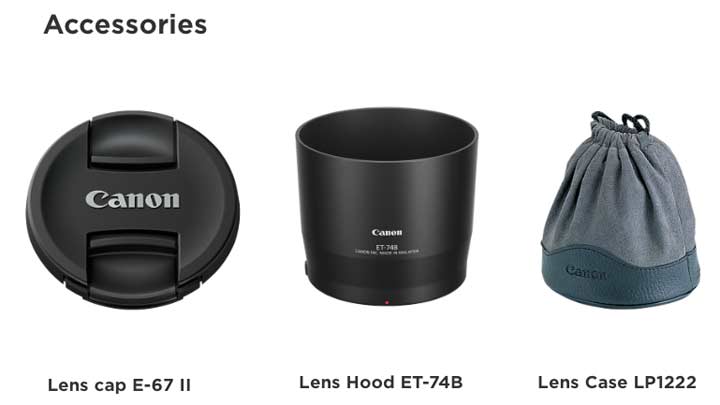 Product launch (note differing max aperture between UK/US info)
United Kingdom, Republic of Ireland, 15 September 2016 – Canon today introduces the EF 70-300mm F/4-5.6 IS II USM – a truly versatile telephoto lens, replacing the EF 70-300mm f/4-5.6 IS USM, for hobbyists and advanced photographers and videographers alike. The sleek and compact EF 70-300mm F/4-5.6 IS II USM has an impressive 70-300mm focal range, helping you capture a variety of subjects from a distance, and whilst on-the-move, whether you're looking to shoot sports, wildlife, action or movies. Offering cutting edge AF and optical technology suited for photography and movies this lens is a welcome addition to any kit bag for advanced users of the EOS System. Designed for use with either APS-C or Full Frame cameras, from the EOS 80D to EOS 6D – it's a high performance lens to get closer to the action and create impactful results to capture the moment.
Outstanding image quality for every situation
Boasting a completely new optical design, built on Canon's renowned optical expertise, the new formula utilises one ultra-low dispersion (UD) lens element to reduce chromatic aberration, for sharp images with outstanding colour and contrast. When using the zoom, the lens's new four-stop Optical Image Stabilizer reduces camera shake and blur, minimising the need for a tripod and allowing you to shoot with longer shutter speeds and still achieve sharp shots. When pursuing the ultimate shot track-side, you'll capture all of the action with the EF 70-300mm F/4-5.6 IS II USM's built-in Nano USM – a breakthrough technology that was introduced with the EF-S 18 -135mm f/3.5-5.6 IS USM – offering fast focus acquisition, exceptional tracking speed combined with smooth, quiet operation. When combined with a versatile focal range, it allows you to capture beautiful portraits and fast-paced action, both in stills and movies. Nano USM makes the lens ideal for movie-makers, giving a natural look and feel to movies – the quiet motor ensuring that soundtracks aren't disturbed by focusing noise and providing smooth focus transitions from one subject to another.
Focus with accuracy: Lens Information Display
The EF 70-300mm F/4-5.6 IS II USM is the first Canon lens to feature an electronic Lens Information Display, ideal for advanced photographers requiring visible shooting information in real-time. Perfect for checking settings at a glance, the display modes include focus distance, depth of field scale at various apertures, camera shake and focal length. Providing more information to the photographer, the display is useful for checking steadiness when you're shooting at low-angles, whilst also allowing you to work out the 35mm equivalents when using APS-C and APS-H format EOS cameras. Designed with a sleek black finish, the lens seamlessly integrates with the look and feel of Canon's EOS bodies, whilst the practical 67mm filter thread and non-rotating front element makes it compatible and practical for use with filters from other lenses in Canon's EF range.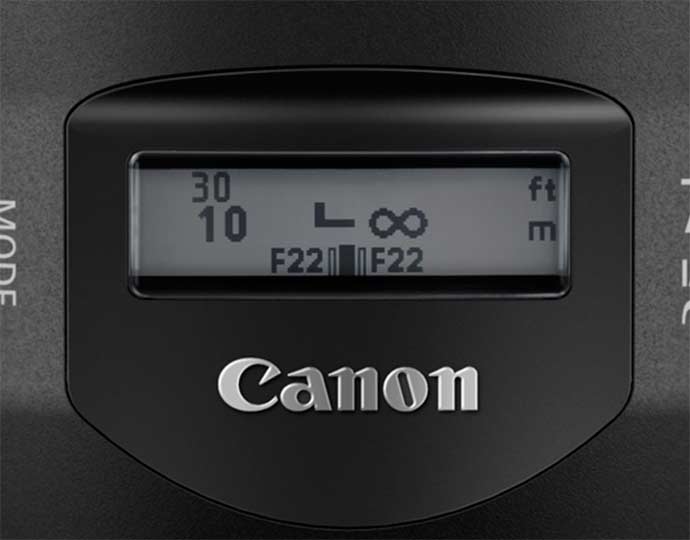 EF 70-300mm F/4-5.6 IS II USM Product key features:
· Get closer and fill the frame with your subject
· High-performance focusing for photos and movies
· Stay informed, with a built-in lens information display
· Superb image quality from an advanced optical design
· Compact design you can take everywhere
Pricing and availability
· The EF 70-300mm F4-5.6 IS II USM will be available from November 2016 with an RRP of £499.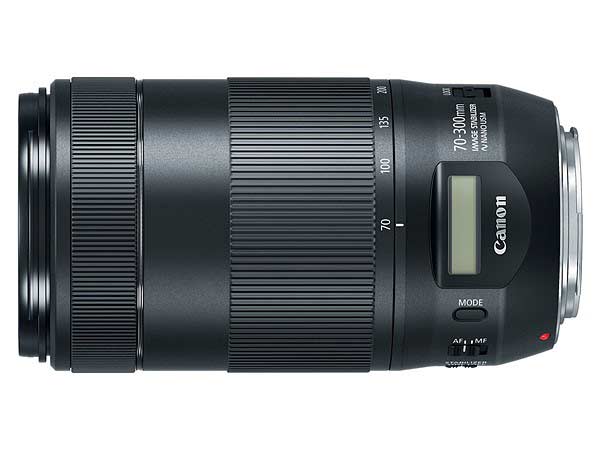 US information
MELVILLE, N.Y., September 15, 2016 – Having the right tool for the job has long been the mantra for professional photographers and hobbyists alike. Canon's wide array of lenses provide users with a variety of creative options to help capture dynamic photos and videos with their DSLR cameras. Canon U.S.A., Inc., a leader in digital imaging solutions, announced today the new Canon EF 70-300mm f/4.5-5.6 IS II USM lens featuring NANO USM technology for high-speed and near-silent focusing in both still and video modes. The lens also features a new LCD information display and four-stop* image stabilization.
"To help photographers that are striving to create the most amazing pictures and videos possible, Canon is dedicated to developing the best tools to help them with their goal," said Yuichi Ishizuka, president and COO, Canon U.S.A., Inc. "Having this new EF 70-300mm f/4.5-5.6 IS II USM lens in a photographer's camera bag will surely help them achieve their creative vision."
Designed with the user in mind, this affordable new lens includes technology to spark creativity and deliver excellent image and video quality from afar. This is the second Canon lens equipped with NANO USM technology, a focusing motor that combines the benefits of a ring USM (ultrasonic motor) for high-speed AF during still photo shooting and lead-screw type STM (stepping motor) for smooth and quiet video autofocusing (AF)
Features for the Canon EF 70-300mm f/4.5-5.6 IS II USM lens include:
High-speed autofocus for shooting stills and smooth, near-silent autofocus when shooting video is achieved by incorporating NANO USM technology.
New Lens Information Display shows focusing distance, focal length and shake amount.
One UD Lens helps reduce chromatic aberration and delivers outstanding high resolution and high-contrast results.
Image Stabilizer effect at up-to-4* stops of shake correction helps capture sharp images.
Circular aperture (9 blades) helps deliver beautiful, soft backgrounds.
Full-time manual focus allows manual focus adjustment while in AF Mode.
The Canon EF 70-300mm F/4.5-5.6 IS II USM lens is scheduled to be available in November 2016, for an estimated retail price of $549.99**. For more information: http://www.usa.canon.com/
* Based on CIPA (Camera & Imaging Products Association) standards. Testing performed using the EOS-1D X digital SLR camera at a focal length of 300mm.
** Availability, specifications and price are subject to change without notice. Actual prices are set by individual dealers and may vary.