A new version of Canon's venerable 18-55mm kit lens is noticeably smaller, at the cost of its widest aperture going from f/3.5 to f/4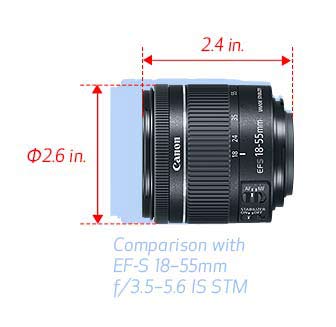 Available from: Amazon.com | Amazon.co.uk | B&H | Adorama
Lens specifications
Principal specifications
Lens type
Zoom lens
Max Format size
APS-C / DX
Focal length
18–55 mm
Lens mount
Canon EF-S
Aperture
Maximum aperture
F4–5.6
Aperture ring
No
Optics
Elements
12
Groups
10
Focus
Minimum focus
0.25 m (9.84″)
Autofocus
Yes
Motor type
Stepper motor
Full time manual
Yes
Distance scale
No
DoF scale
No
Physical
Weight
215 g (0.47 lb)
Diameter
67 mm (2.64″)
Length
62 mm (2.44″)
Sealing
No
Zoom method
Rotary (extending)
Filter thread
58.0 mm
MTF Figures - pending
A quick guide to MTF charts (which only measure contrast and resolution. Canon's guide to their MTF charts)
Black lines reflect lens performance at widest aperture.
Blue lines show the performance at f/8

Thick lines indicate lens contrast
Thin lines indicate lens resolution

Dashed lines: Lens performance with meridional lines.
Solid lines: Lens performance with sagittal lines

Closer sagittal and meridional chart lines indicate more 'natural' out of focus areas.
Remember that MTF charts are good for comparing similar lenses, so comparing ones from the 14mm f2.8L and 300mm 2.8L won't tell you much at all, whilst comparing the EF14 2.8L with the EF14 2.8L II will show meaningful differences. Note that other manufacturers may have different ways of displaying such information that may or may not match up with the Canon figures.
EF-S 18-55mm f/4-5.6 IS STM reviews and articles
Amazon

Northlight Images

Canon CPN article

Fred Miranda
Lens Tip
Digital Picture
PhotoZone
SLR Gear
Lens Review
Photography Blog
ePhotozine
Written a review? Contact us and we'll add it to the list.
Sample images
Product launch
Launched February 15th 2017 along with EOS 800D and 77D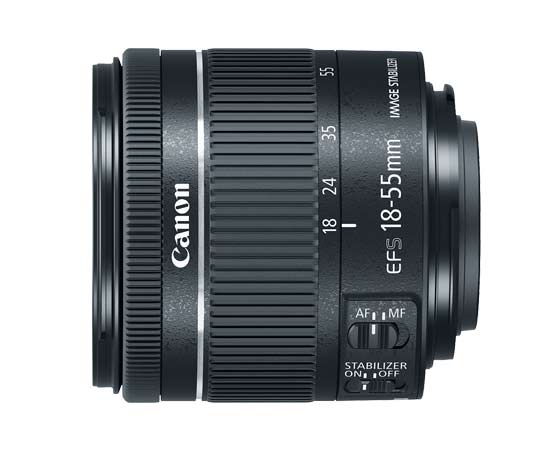 The new Canon EF-S 18-55mm f/4-5.6 IS STM lens is nearly 20 percent smaller than the EF-S 18-55mm f/3.5-5.6 IS STM lens, without sacrificing image quality. Features of the lens include:
Compact-size, Standard Zoom Lens with High Image Quality
Lead Screw-type STM
Image Stabilization at up to 45 Stops of Shake Correction
Stylish Design
The Canon EF-S 18-55mm f/4-5.6 IS STM lens is scheduled to be available in early April 2017 for an estimated retail price of $249.99**.