The new 35mm is optimised as a Macro lens, and with built-in lighting and IS, a useful addition to the EF-S range, complementing the EF-M 28mm macro, which shares many design features
Available from: Amazon.com | Amazon.co.uk | B&H | Adorama
Lens specifications
Lens type
Prime lens
Max Format size
APS-C / DX
Focal length
35mm
Image stabilization
Yes (4 stops)
Lens mount
Canon EF-S
Aperture
Maximum aperture
F2.8
Aperture ring
No
Number of diaphragm blades
7
Optics
Elements
10
Groups
6
Special elements / coatings
Glass-molded aspheric element
Focus
Minimum focus
0.03m (1.18″)
Maximum magnification
1×
Autofocus
Yes
Motor type
Stepper motor
Full time manual
Yes
Focus method
Internal
Distance scale
No
DoF scale
No
Focus distance limiter
No
Physical
Weight
190g (0.42lb)
Diameter
69mm (2.72″)
Length
56mm (2.2″)
Sealing
No
Colour
Black
Filter thread
49.0mm
Hood supplied: ES-27
Tripod collar
No
Lens cap EF-S35

Lens Cap designed for the EF-S35mm f/2.8 Macro IS STM lens.

Can be used with or without lens hood ES-27 attached and with filters of a 49mm diameter.
MTF chart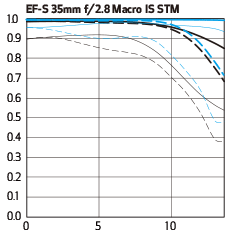 A quick guide to MTF charts (which only measure contrast and resolution. Canon's guide to their MTF charts)
Black lines reflect lens performance at widest aperture.
Blue lines show the performance at f/8

Thick lines indicate lens contrast
Thin lines indicate lens resolution

Dashed lines: Lens performance with meridional lines.
Solid lines: Lens performance with sagittal lines

Closer sagittal and meridional chart lines indicate more 'natural' out of focus areas.
Remember that MTF charts are good for comparing similar lenses, so comparing ones from the 14mm f2.8L and 300mm 2.8L won't tell you much at all, whilst comparing the EF14 2.8L with the EF14 2.8L II will show meaningful differences. Note that other manufacturers may have different ways of displaying such information that may or may not match up with the Canon figures.
Front view of the lens showing the built-in LED lighting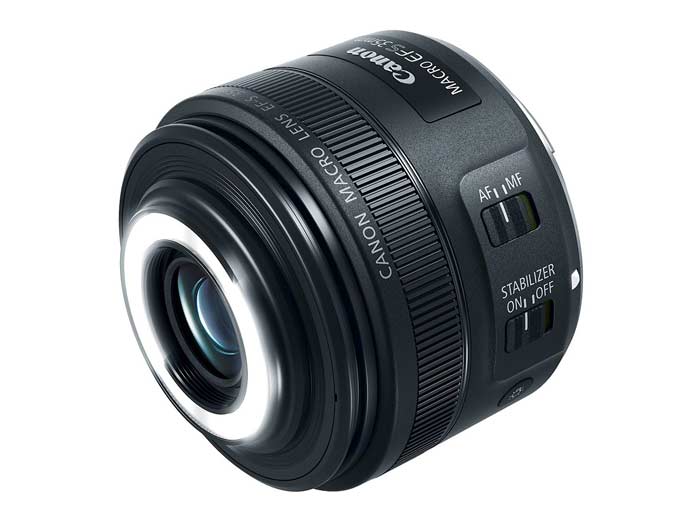 The lighting can be controlled for direction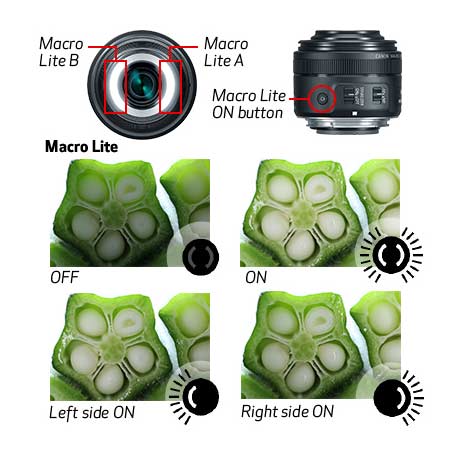 A special lens hood is supplied: ES 27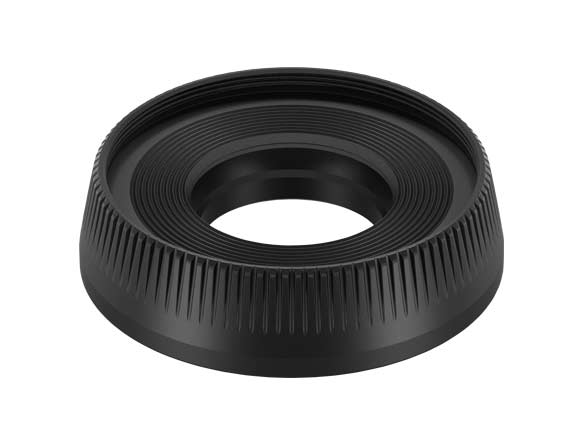 EF-S 35mm f/2.8 Macro IS STM reviews and articles
Written a review? Contact us and we'll add it to the list.
Sample images
Canon imaging plaza: photo slideshow - https://youtu.be/E-DOIOaaP7w
Product launch - April 6th 2017
UP CLOSE AND PERSONAL: CANON ANNOUNCES NEW EF-S 35MM F/2.8 MACRO IS STM LENS TO HELP EXPLORE THE BEAUTY OF MACRO PHOTOGRAPHY

New Compact and Lightweight EF-S Macro Lens Opens Up a World of Photographic Possibilities and Helps Capture Close Subjects with Incredible Detail
MELVILLE, N.Y., April 6, 2017 – Compact and lightweight, the new Canon EF-S 35mm f/2.8 Macro IS STM, announced today by Canon U.S.A., Inc., a leader in digital imaging solutions, is the widest-angle Macro offering in Canon's popular EF-S lens series. The new lens is designed to help both entry-level and advanced amateur DSLR photographers discover the incredible possibilities of macro photography. Capable of capturing close-up subjects with incredible detail, Canon's new EF-S macro lens is also the first in the series to feature built-in Macro Lites that allow users to control lighting with ease.
"Macro lenses are an amazing way to explore the worlds that exist all around us, and the new Canon EF-S 35mm f/2.8 Macro IS STM lens is the ideal starting point for amateur photographers eager to capture incredible, up-close details on the go," said Yuichi Ishizuka, president and COO, Canon U.S.A., Inc. "Whether capturing a delectable dessert or the subtleties of a backyard flower, users will be challenged to find new colors and shapes that turn everyday moments into art."
The new Canon EF-S 35mm f/2.8 Macro IS STM captures stunning images and is a terrific companion lens for entry-level users eager to expand beyond their existing Canon EOS DSLR kit lens. Capable of shooting as close as 30mm from the end of the lens to the subject, aspiring photographers can get up close to a fruit or flower for an entirely new perspective, while capturing high-quality images with beautiful background blur. Additional technologies built into the new Canon EF-S 35mm f/2.8 Macro IS STM lens include:
Popular 35mm focal length (56mm equivalent) and wide f/2.8 aperture
Hybrid IS system offers up to four stops* of shake correction
Smooth Movie Servo AF with Lead Screw-type STM ensures quiet AF operation
Full-time Manual Focus
In a first for the EF-S lens series, the new Canon EF-S 35mm lens sports built-in Macro Lites that allow photographers to carefully arrange macro lighting without using special equipment. With built-in LED lights on each side of the lens, users can create compelling shadows on either side of a subject or adjust intensity to give images a sense of dimension. Once the scene is set, the lens uses superb rendering performance to capture high contrast, sharp images.
While specialized for high magnification photography, the Canon EF-S 35mm f/2.8 Macro IS STM is still a versatile option for day-to-day use, easily capable of capturing portraits, landscapes or snapshots. As the latest addition to the lineup of EF-S lenses, Canon continues its commitment to providing a wide-range of affordable lens options for photographers of all levels.
The Canon EF-S 35mm f/2.8 Macro IS STM lens is scheduled to be available in June 2017 for an estimated retail price of $349.99.