Compared with two version of TS-E24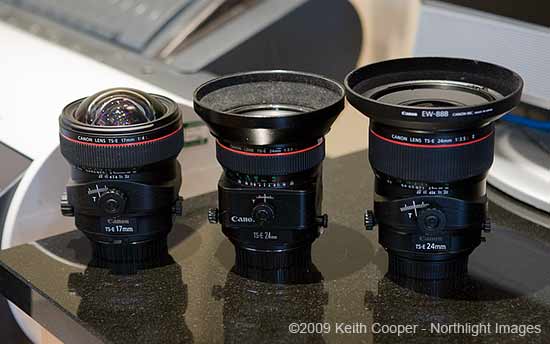 Clock tower in Leicester.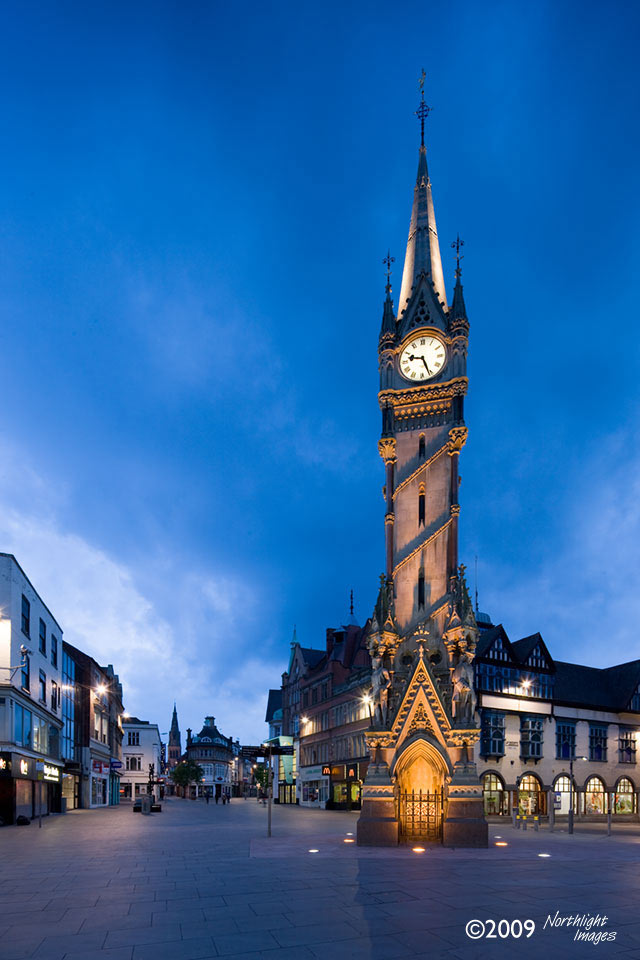 100% crop from imge above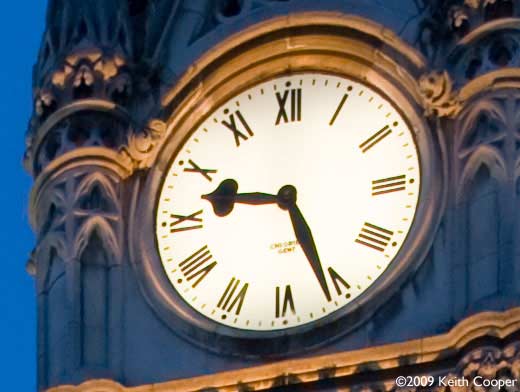 The protruding and exposed front element.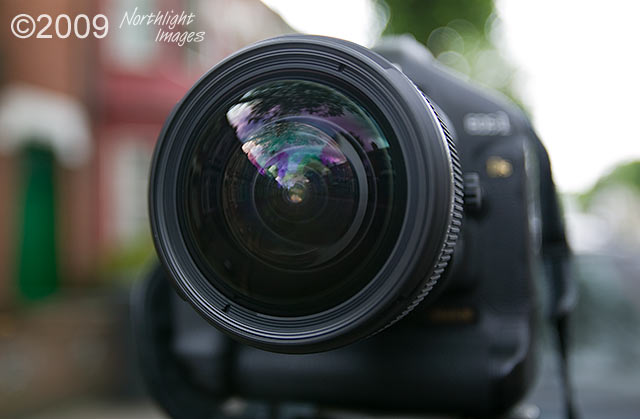 The PEX building, Leicester, UK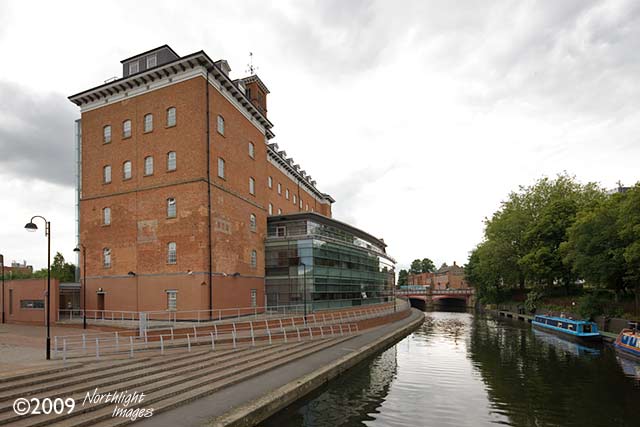 left-right stitched view with the 17mm on a 1Ds mk3

Up/down vertical stitch, using TS-E17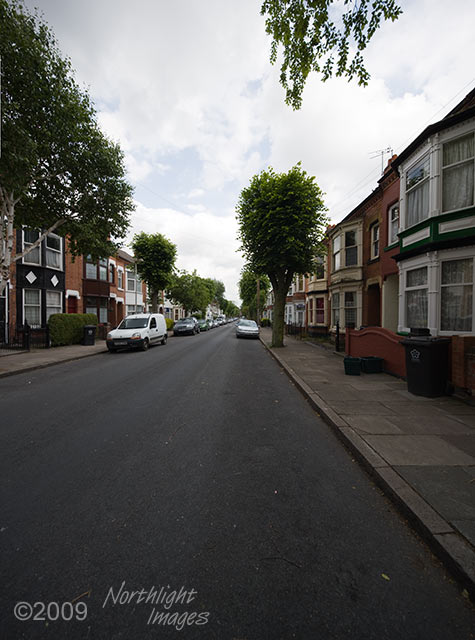 Product launch
UK Press information [US release below] - note this covers both 24mm and 17mm
Canon strengthens tilt & shift range with two new additions
Canon launches ultra-wide angle 17mm tilt and shift lens – the world's widest in 35mm format photography
New 24mm tilt and shift lens offers largest range of movement available
United Kingdom / Republic of Ireland, 18 February, 2009: Canon today announces the launch of two new tilt and shift lenses, the Ultra-Wide angle TS-E 17mm f/4L and the TS-E 24mm f/3.5L II, an upgrade to the popular TS-E 24mm f/3.5L.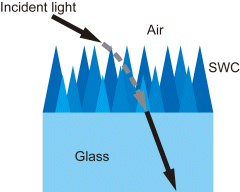 At 17mm, the TS-E 17mm f/4L has the widest view angle of any tilt and shift lens currently available; coupled with outstanding image quality across the whole frame, it is an ideal choice for architectural or landscape photography. Building on the success of its predecessor, the TS-E 24mm f/3.5L II, like the S-E 17mm f/4L, now includes Canon's sub-wavelength structure coating (SWC). Canon's patented lens coating is specifically designed to minimise ghosting and flare caused by internal reflections to help deliver crisp, clear images.
Canon was the first company to offer 35mm camera users a combined tilt and shift lens, With 36 years experience in this field, Canon has now added a new unique functionality to the TS-E 17mm f/4L and TS-E 24mm f/3.5L II, allowing users to rotate the direction of the tilt and shift independently of each other. This affords greater control over the focal plane, replicating the movements of a large format view camera. Canon's revolutionary tilt and shift revolving mechanism is particularly useful when shooting product shots from a perspective where specific framing and focal plane is required.
The new lenses, influenced by feedback from professional photographers, have been created to produce the best image quality with high resolution, high contrast and low distortion. The use of high-precision asphercial front elements keeps distortion, common in wide angle lenses, to an absolute minimum, even at the edges of the frame. The TS-E 17mm f/4L and TS-E 24mm f/3.5L II also feature multiple UD elements to reduce chromatic aberration and optimised focus mechanisms.
Canon today has also introduced a new range (52mm to 72mm) of versatile, multi-functional PL-C B polarizing filters to help reduce reflections from glass or water or darken blue skies. The PL-C B's, which are now available in 52mm, 58mm, 67mm, 72mm, 77mm and 82mm filter thread sizes, also allows the lens cap to be attached to the lens to prevent damage to the filter if left attached when not in use.
Key features of the TS-E 17mm f/4L and TS-E 24mm f/3.5L II include:
Tilt and shift lenses compatible with all Canon EOS cameras
Ultra Wide 17mm / wide 24mm focal length, ideal for architecture and landscapes
High precision lens elements for low distortion and high resolution to the edge of the image
± 6.5° Tilt and ±12mm Shift (TS-E 17mm f/4L) ± 8.5° Tilt and ±12mm Shift (TS-E 24mm f/3.5L II)
Tilt and shift mechanism rotates +/-90° allowing shift in any direction
Tilt mechanism rotates +/-90° allowing tilt in any direction relative to the shift
Aspherical and UD lens elements minimise chromatic aberration
Sub-wavelength structure and super-spectra coatings minimise ghosting and flare
Circular aperture for creative, blurred highlights
TS-E 17mm f/4L has a floating internal focus mechanism delivers high image quality throughout focus range.
Pricing and Availability:
The TS-E 17mm f/4L is available from May 2009 priced at £2749.99 / €3049.99 RRP inc. VAT.
The TS-E 24mm f/3.5L II is available from May 2009 priced at £2399.99 / €2659.99 RRP inc. VAT.
CANON U.S.A. EXPANDS ITS LENS PORTFOLIO WITH THE INTRODUCTION OF TWO NEW WIDE-ANGLE TILT-SHIFT LENSES
Canon Introduces the New TS-E 24mm f/3.5L II and the TS-E 17mm f/4L Tilt-Shift Lenses
LAKE SUCCESS, N.Y., February 17, 2009 – Canon U.S.A., Inc., a leader in digital imaging and optics, today introduced two new Tilt-Shift lenses, the TS-E 24mm f/3.5L II and the TS-E 17mm f/4L. These two new L series lenses expand the Company's extensive lens line-up of TS-E lenses giving photographers creative control over perspective and depth of field in their images. Both the TS-E 24mm f/3.5L II and the TS-E 17mm f/4L are specialty lenses ideal for landscape and architectural photography and are compatible with all Canon EOS system single lens reflex cameras1. The TS-E 24mm f/3.5L II, a replacement for Canon's TS-E 24mm f/3.5L introduced in 1991, has significantly improved operability with low distortion when photographing buildings, consistent image quality throughout the image and reduced chromatic aberration when shooting at ultra-wide angles. The TS-E 17mm f/4L is the world's shortest focal length Tilt-Shift lens with full-frame 35mm coverage.
"These two new lenses are Canon's answer to photographers who have requested wider angle Tilt-Shift lenses, with the new TS-E 24mm for wide angles and the all new TS-E 17mm for ultra-wide angles. We continually seek to expand our optics portfolio to meet the demands of our photographers to ensure that they have the best tools available to capture some of the most stunning images on the planet," stated Yuichi Ishizuka, senior vice president and general manager, Consumer Imaging Group, Canon U.S.A.
An innovative feature on both the TS-E 24mm f/3.5L II and the TS-E 17mm f/4L lenses is Canon's new TS Revolving System. This feature allows tilting and shifting lens movements to be adjusted in parallel or at right angles to each other, with detents at 45˚ intervals. Additionally, once the TS Revolving System has been set, the orientation of the entire lens can be rotated freely through a range of ±90˚, with detents at 30˚ intervals. The amount of tilt is ±8.5˚ for the TS-E 24mm f/3.5L II and ±6.5˚ for the TS-E 17mm f/4L. The amount of shift is ±12mm for both lenses. The image circle diameter for both lenses is an impressive 67.2mm. (The diagonal measurement of the full-frame 35mm format is only 43.2mm.)
The high-precision glass molded aspherical and UD glass lens elements and accurate aspherical GMo along with a large diameter in new TS-E lenses deliver outstanding image quality, high resolution and super-low distortion to all edges of the image. Each lens incorporates a new type of anti-reflection coating, Canon's SubWavelength structure Coating (SWC) that continuously changes the refractive index on the lens surface via wedge-shaped structures more minute than wavelength of visible light. Canon's SWC helps minimize flare and ghosting caused by bright light from large angles of incidence. The new TS-E lenses are the 2nd and 3rd Canon EF series lenses with SWC, following the EF 24mm f/1.4L II USM that was introduced in 2008.
Pricing and Availability
The TS-E 24mm f/3.5L II is expected to ship in May for an estimated retail price of $2,199.00*. The TS-E 17mm f/4L is expected to ship in May for an estimated retail price of $2,499.00*.
About Canon U.S.A., Inc.
Canon U.S.A., Inc., is a leading provider of consumer, business-to-business, and industrial digital imaging solutions. Its parent company, Canon Inc. (NYSE:CAJ), a top patent holder of technology, ranked third overall in the U.S. in 2008†, with global revenues of US $45 billion, is listed as number seven in the computer industry on Fortune Magazine's World's Most Admired Companies 2008 list, and is on the 2008 BusinessWeek list of "Top 100 Brands." At Canon, we care because caring is essential to living together in harmony. Founded upon a corporate philosophy of Kyosei – "all people, regardless of race, religion or culture, harmoniously living and working together into the future" – Canon U.S.A. supports a number of social, youth, educational and other programs, including environmental and recycling initiatives. Additional information about these programs can be found at www.usa.canon.com/kyosei. To keep apprised of the latest news from Canon U.S.A., sign up for the Company's RSS news feed by visiting www.usa.canon.com/rss.
# # #
† Based on weekly patent counts issued by the United States Patent and Trademark Office
* Prices are estimated retail prices. Actual selling prices are set by dealers and may vary.
All referenced product names, and other marks, are trademarks of their respective owners.
Prices, specifications and availability are subject to change without notice.
1 To prevent the knobs on TS-E lenses from coming into contact with the camera during tilt/shift/revolving/TS revolving movements, the use of EOS-1 class or EOS 5D/5D Mark II cameras is recommended.