An all new lens to replace the (non-'L') TS-E45mm. 12mm of shift and 8.5 degrees of tilt.
Optically, it should be a significant improvement over the TS-E45mm
Available from: Amazon.com | Amazon.co.uk | B&H | Adorama
Lens specifications (all three 2017 TS-E)
 
Canon TS-E 50mm F2.8L Macro
Canon TS-E 90mm F2.8L Macro
Canon TS-E 135mm F4L Macro
Principal specifications
Lens type
Prime lens
Max Format size
35mm FF
Focal length
50 mm
90 mm
135 mm
Image stabilization
No
Lens mount
Canon EF
Aperture
Maximum aperture
f/2.8 (50mm to f/32, 90mm to f/45)
f/4 (to f/45)
Aperture ring
No
Optics
Elements
12
11
Groups
9
7
Special elements / coatings
Moulded glass aspherical and UD elements + SWC and ASC coatings
Moulded glass aspherical and UD elements + ASC coating
Moulded glass aspherical and UD elements + SWC coatings
Focus
Minimum focus
0.27 m (10.63″)
0.39 m (15.35″)
0.49 m (19.29″)
Shift
± 12mm
±12mm
±12mm
Tilt
± 8.5º
±10º
±10º
Maximum magnification
0.5x
Magnification with 12mm tube
0.74 - 0.23
0.64 - 0.15
0.62 - 0.09
Magnification with 25mm tube
1.0 - 0.48
0.82 - 0.32
0.77 - 0.2
Autofocus
No
Full time manual
Yes
Focus method
Internal
Distance scale
Yes
Physical
Weight
945 g (2.08 lb)
915 g (2.02 lb)
1110 g (2.45 lb)
Diameter
87 mm (3.43″)
67 mm (2.64″)
89 mm (3.5″)
Length
115 mm (4.53″)
117 mm (4.61″)
139 mm (5.47″)
Materials
Magnesium alloy
Colour
Black
Filter thread
77.0 mm
82.0 mm
Hood supplied
Yes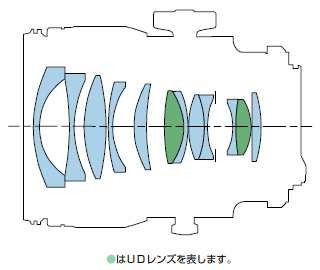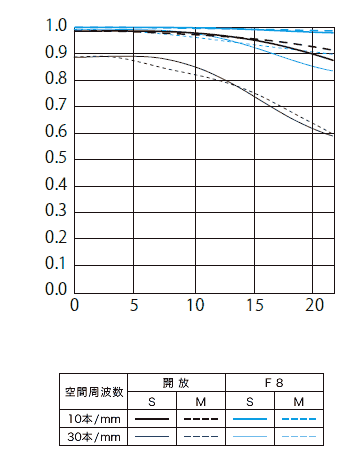 A quick guide to MTF charts (which only measure contrast and resolution. Canon's guide to their MTF charts)
Black lines reflect lens performance at widest aperture.
Blue lines show the performance at f/8

Thick lines indicate lens contrast
Thin lines indicate lens resolution

Dashed lines: Lens performance with meridional lines.
Solid lines: Lens performance with sagittal lines

Closer sagittal and meridional chart lines indicate more 'natural' out of focus areas.
Remember that MTF charts are good for comparing similar lenses, so comparing ones from the 14mm f2.8L and 300mm 2.8L won't tell you much at all, whilst comparing the EF14 2.8L with the EF14 2.8L II will show meaningful differences. Note that other manufacturers may have different ways of displaying such information that may or may not match up with the Canon figures.
TS-E50mm f/2.8L Macro reviews and articles
Canon UK / US Information Page

Amazon

Canon CPN article

Fred Miranda
Lens Tip
Digital Picture
PhotoZone
SLR Gear
Lens Review
ePhotozine
Written a review? Contact us and we'll add it to the list.
Sample images
Product launch
August 2017 - launched with the 85mm f1.4L IS
United Kingdom, Republic of Ireland, 29th August 2017 – Canon today introduces four new lenses into its premium L-series range, offering enhanced creative opportunities for professional photographers and serious amateurs. Built on the high quality that Canon's L-series lenses are renowned for, the EF 85mm f/1.4L IS USM, TS-E 50mm f/2.8L MACRO, TS-E 90mm f/2.8L MACRO and TS-E 135mm f/4L MACRO offer incredible ease-of-use, durability and increased scope for photographic experimentation in perspective and scale.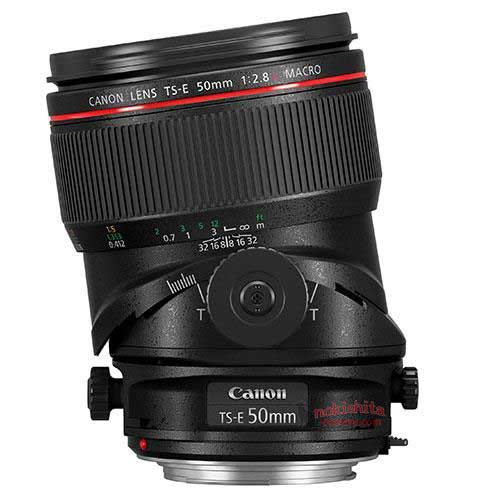 Path to the perfect portrait
Created following feedback from photographers around the world, the EF 85mm f/1.4L IS USM has been designed to produce flattering skin tones and beautiful perspective for stunning portrait and wedding photography. Featuring a new 14 elements, 10 group, lens design, the EF 85mm includes high-quality, high-precision elements to correct chromatic aberration and to deliver the optical performance required by the latest high-resolution sensors. The quality of the image is further enhanced thanks to Air Sphere Coating (ASC) technology. This ultra-low refractive index layer on the EF 85mm eliminates image flare and ghosting to ensure clear and attractive images.
The EF 85mm is equipped with an Electro Magnetic diaphragm, which uses a wide f/1.4 aperture comprised of nine blades. This allows the lens to capture an attractive "bokeh" look, which is essential for striking shots. The aperture is also capable of transmitting more light to boost exposure and depth-of-field control. This fast aperture performance is crucial for standout portraits where the subject is the key focal point. Photographers can also enjoy unparalleled stability via the EF 85mm's 4-stop image stabilisation, which prevents camera shake from ruining images. The combination of image stabilisation and fast aperture make the EF 85mm perfect for use in videography.
The EF 85mm has a high-speed ring type Ultrasonic Motor (USM) driven Auto Focus (AF), which works with the lens CPU and the camera's AF algorithms to provide fast and accurate AF. The USM driven AF is also completely silent, which supports a photographer's ability to shoot great images discreetly at events such as weddings. The AF also features a full-time manual override and is compatible with the entire family of Cinema EOS cameras.
The lens also benefits from the enhanced durability provided by Canon's L-series lens construction. Thanks to the EF 85mm's weather sealing, dustproofing and fluorine coating, this lens has been specifically designed for tough and variable weather conditions.
The complete package of features included in the EF 85mm makes this lens the perfect tool for all portrait photographers. It's perfect for anyone who needs a versatile telephoto lens that can cope with many situations including weddings, events, studio or indoor/outdoor photography.
Premium quality for photographic creativity
Since the introduction of the TS-E 17mm f/4L and TS-E 24mm f/3.5L II, Canon has received requests to bring the range of lens movement controls to longer focal lengths. Canon has responded to these calls with the launch of the TS-E 50mm f/2.8L MACRO, TS-E 90mm f/2.8L MACRO and TS-E 135mm f/4L MACRO. These lenses offer features to support creative photography such as specialist tilt, shift and rotate movements and macro functionality; alongside cutting-edge L-series optical design and precision. The TS-E 135mm enriches the TS-E range with its longer focal length, while the TS-E 50mm and TS-E 90mm replace existing models TS-E 45mm f/2.8 and TS-E 90mm f/2.8, respectively.
The TS-E 50mm is perfect for capturing creative, outstanding and accurate images across landscapes, architecture and in the studio, while the TS-E 90mm and TS-E 135mm are better suited for portraiture and macro photography in the studio.
The TS-E 50mm, TS-E 90mm and TS-E 135mm's shift function enables the lens to be shifted up, down, left or right, allowing for minimisation of perspective distortion. This capability is used regularly in architecture photography as it allows for image perspective to be corrected – such as the inherent distortion witnessed at the top of an image of a tall building. One of the creative uses of the tilt function is the 'miniature effect'. This involves moving the lens so that different elements of an image stay in focus, making certain aspects look very small.
The minimum focusing distance of the three lenses has also been optimised for macro photography, producing half-life size images with a maximum magnification of 0.5x. For example, the TS-E 135mm allows photographers to be 49cm away from the subject and still obtain this magnification. This is ideal when working in a studio with lights as it makes it easier to position the lighting for the optimal effect.
Continuing the tradition of Canon's use of the highest quality, superior precision moulded glass, the TS-E 50mm, TS-E 90mm and TS-E 135mm all enable high-resolution to the edge of the image and very low levels of distortion. All three lenses feature innovative optical designs to cut down refracted light, which can impinge on accurate focusing, and UD (ultra-low dispersion) lens elements to produce sharper images. Optimised lens coatings ensure excellent colour balance while simultaneously minimising the chance for ghosting to impact image quality.
EF 85mm f/1.4L IS USM key features:
• Advanced optical design provides exceptional image quality
• Large, bright aperture for a focused performance in all light levels
• Smooth and precise 4-stop image stabilisation
• Responsive, high-speed and precise AF for rapid focusing agility
• Durable construction and excellent weather resistance
TS-E 50mm f/2.8L MACRO key features:
• Control depth-of-field precisely for clever creative effects
• Correct perspective and verticals quickly and accurately in-camera
• Adjust focus detail in macro shots with 1:2 ratio
• Optical excellence with advanced lens design and construction
• 50mm focal length perfect for architecture, landscape and product photography
TS-E 90mm f/2.8L MACRO key features:
• Control focus precisely for clever creative effects
• Correct perspective and verticals quickly and accurately in-camera
• Adjust focus detail in macro shots with 1:2 ratio
• Optical excellence with advanced lens design and construction
• Achieve better portrait and product images with ultimate sharpness

TS-E 135mm f/4L MACRO key features:
• Control focus precisely for clever creative effects
• Correct perspective and verticals quickly and accurately in-camera
• Adjust focus detail in macro shots with 1:2 ratio
• Optical excellence with advanced lens design and construction
• Achieve better long distance studio images with ultimate sharpness

Pricing and availability
The EOS M100 is available from October 2017 in the following kits:
The EF 85mm f/1.4L IS USM is available from November 2017 with a SRP of £1,569.99/€1,879.99
The TS-E 50mm f/2.8L MACRO is available from November 2017 with an SRP of £2,499.99/€2,999.99
The TS-E 90mm f/2.8L MACRO is available from November 2017 with an SRP of £2,499.99/€2,999.99
The TS-E 135mm f/4L MACRO is available from November 2017 with an SRP of £2,499.99/€2,999.99