Canon's first pancake lens in the EF range. The somewhat unusual 40mm focal length gives 64mm equivalent on a 1.6 crop sensor body.
First introduced in 2012, the lens features a quiet STM (stepper motor) drive for AF and 'Movie Servo AF' for smooth, quiet autofocus when filming on compatible Canon DSLRs.
Initial indications are that the lens is very good optically
Available from: Amazon.com | Amazon.co.uk | B&H | Adorama
Lens specifications
| | |
| --- | --- |
| Focal Length & Maximum Aperture | 22mm, 1:2 |
| Lens Construction | 7 elements in 6 groups |
| Diagonal Angle of View | 63°30' |
| Focus Adjustment | Inner Focusing System |
| Closest Focusing Distance | 0.49 ft. / 0.15m |
| Filter Size | 43mm |
| Max. Diameter x Length, Weight | 2.4 x 0.9 inch, 3.7 oz. / 60.9 x 23.7mm, 105g |
Construction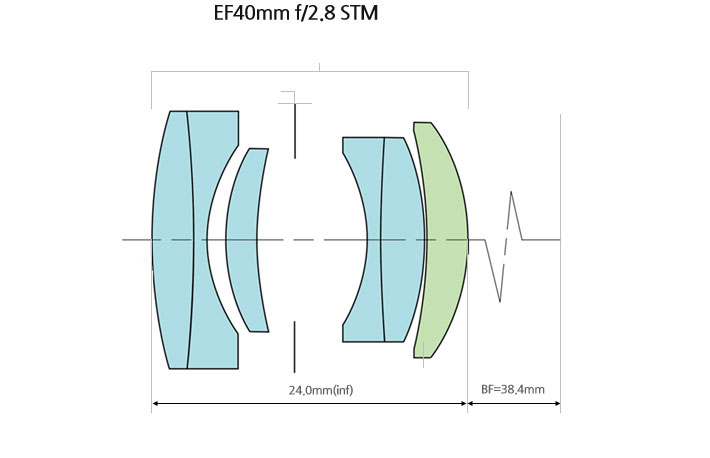 MTF compared to 50/1.8 and 50/1.4

A quick guide to MTF charts (which only measure contrast and resolution. Canon's guide to their MTF charts)
Black lines reflect lens performance at widest aperture.
Blue lines show the performance at f/8

Thick lines indicate lens contrast
Thin lines indicate lens resolution

Dashed lines: Lens performance with meridional lines.
Solid lines: Lens performance with sagittal lines

Closer sagittal and meridional chart lines indicate more 'natural' out of focus areas.
Remember that MTF charts are good for comparing similar lenses, so comparing ones from the 14mm f2.8L and 300mm 2.8L won't tell you much at all, whilst comparing the EF14 2.8L with the EF14 2.8L II will show meaningful differences. Note that other manufacturers may have different ways of displaying such information that may or may not match up with the Canon figures.
Which 400mm? - a list of all versions
Canon EF 400mm
Attribute
f/2.8 USM
f/2.8 II USM
f/2.8 IS USM
f/2.8 IS II USM
f/2.8 IS III USM
f/4 DO IS USM
f/5.6 USM
f/4 DO IS II USM
Key features
Full-frame compatible
Yes
Image stabilizer
No
Yes
No
Yes
Ultrasonic Motor
Yes
L-series
Yes
Diffractive Optics
No
Yes
No
Yes
Technical data
Aperture (max-min)
f/2.8-f/32
f/4-f/32
f/5.6-f/32
f/4-f/32
Construction
9 groups / 11 elements
13 groups / 17 elements
6 groups / 7 elements
12 groups /18 elements
Aperture blades
8
9
8
9
Closest focusing distance
4m
3m
2.7m
2.5m
3.5m
3.3m
Max. magnification
0.11x
0.15x
0.17x
0.12x
0.11x
0.13x
Diagonal viewing angle
6 °
Physical data
Weight
13.44 lb / 6.1 kg
13.03 lb / 5.91 kg
11.83 lb / 5.37 kg
8.48 lb / 3.85 kg
6.26 lb / 2.84 kg
4.27 lb / 1.94 kg
2.8 lb / 1.25 kg
2.1 kg
Maximum diameter
6.57" / 167mm
6.41" / 163mm
5.03" / 128mm
3.54" / 90mm/
5.04" /128mm
Length
13.70" / 348mm
13.74" / 349mm
13.50" / 343mm
9.16" / 232.7mm
10.09" / 256.5mm
9.16" / 232.7mm
Filter diameter
48mm
52mm drop-in filter
77mm
52mm drop-in
Accessories
Lens hood
ET-161B II
ET-155
ET-155 (WII)
ET-155 (WIII)
ET-120
Built-in
ET120 (WII)
Case
400
400C
400E
400B
400D
Retail information
Release date
April 1991
March 1996
Sept. 1999
Aug. 2011
Sept. 2018
Dec. 2001
May 1993
Sept. 2014
EF 40mm f/2.8 STM reviews and articles
Canon CPN article

Lens manual (PDF)
Written a review? Contact us and we'll add it to the list.
Product Advisory notice (August 2012)
To Users of the EF40mm f/2.8 STM Interchangeable Lens for Canon Digital SLR Cameras
Thank you for using Canon products.
It has been confirmed that the autofocusing function of the EF40mm f/2.8 STM lens, which was released in June 2012, may not operate correctly.
The details of this phenomenon are described below.
Affected Product
EF40mm f/2.8 STM
Phenomenon
If pressure is applied to the lens barrel while the lens is mounted to the camera (pressure can be applied even while attaching the lens cap or while carrying the camera with the lens attached in a bag), the autofocusing function of the lens may stop working.
*This phenomenon does not occur during normal shooting.
*This phenomenon does not result in a malfunction of the lens.
Workaround
When the above phenomenon occurs, detach and reattach the lens, or remove and reinsert the camera battery to restore the operations.
Market Support: The firmware to address this phenomenon will be available for download in late August, 2012.